Norway is a beautiful place to visit any time of year, as each season has its highlights. The most popular time to visit for a trip to Norway is from mid-June to August, although arguably the best seasons are springtime (from May to June) and fall (September and October), when the weather is amazing and there are very few tourists. Tromsø is the best place in Norway to see the northern lights and the optimal time is during the polar night from late September to early April.
Svalbard, a remote outpost almost 1,000 km north of Norway, is ideal for outdoor enthusiasts and rewards a visit at any time of the year. Just ask legendary hunter Tommy Sandal, who lives in the wilderness all year round. Half the island of Spitsbergen is permanently covered in ice and snow, while the west coast is warmed by the Gulf Stream and thaws in the springtime. The most spectacular aurora sightings are also on Svalbard. From mid-November until January, there is total darkness, with only moonlight. Longyearbyen is the only inhabited place on earth to experience the aurora borealis at midday.
Winter in Norway and Svalbard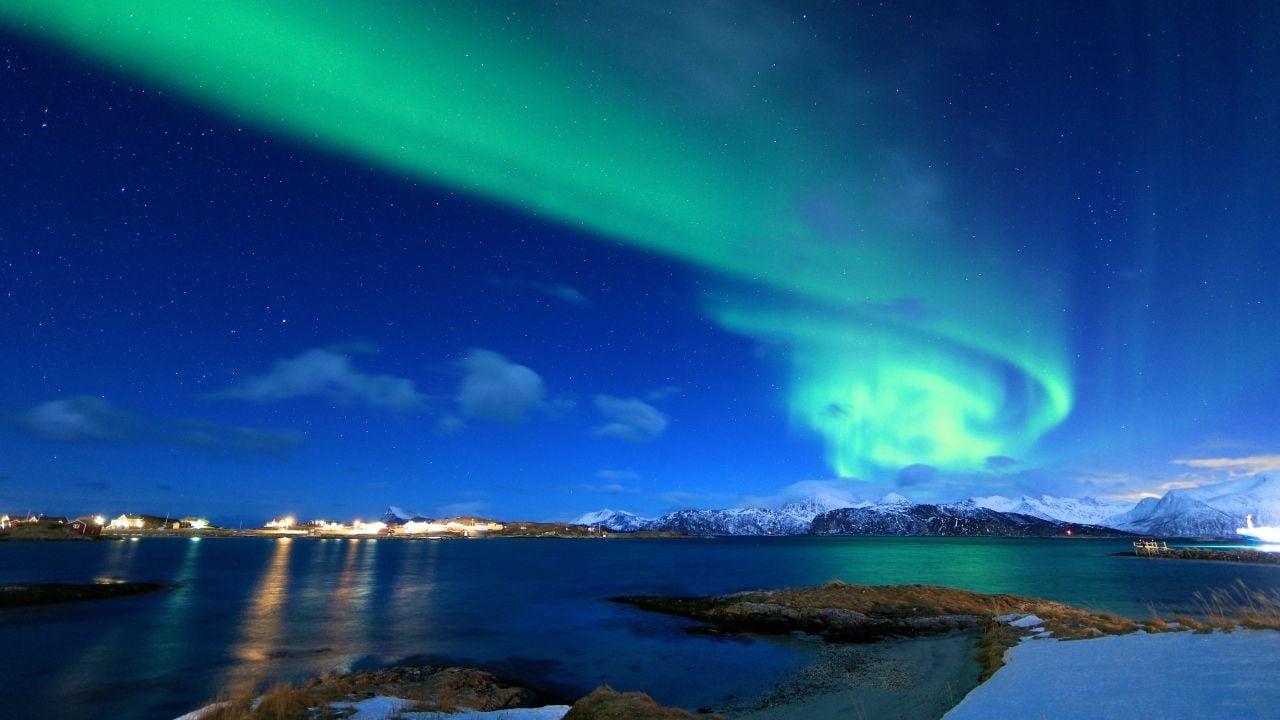 The winter wonderland of January attracts fewer visitors to Norway than at other times of year. There are about seven hours of sunlight daily in Oslo and temperatures are low, between 20-30° Fahrenheit (-6 to -1° Celsius).
This is a great time to go on a northern lights road trip, starting in Tromsø, taking in rock art or husky sledding in Alta, or experiencing the indigenous Sami culture far north in Karasjok.
King crab safaris are available in Tromsø and Kirkenes from December to April. These arthropods are horrifically large and famously delicious, so it's time for a fishing expedition!
Since the Gulf Stream makes temperatures milder on the west coast, this is a good time to visit Oslo, Bergen, or Trondheim and see the fjords—or even swim with whales.
February is a great time to see the aurora or go husky sledding under the night sky in Norway. The northern lights are still very vivid until mid-March. Temperatures in Oslo are 28° F (-2° C).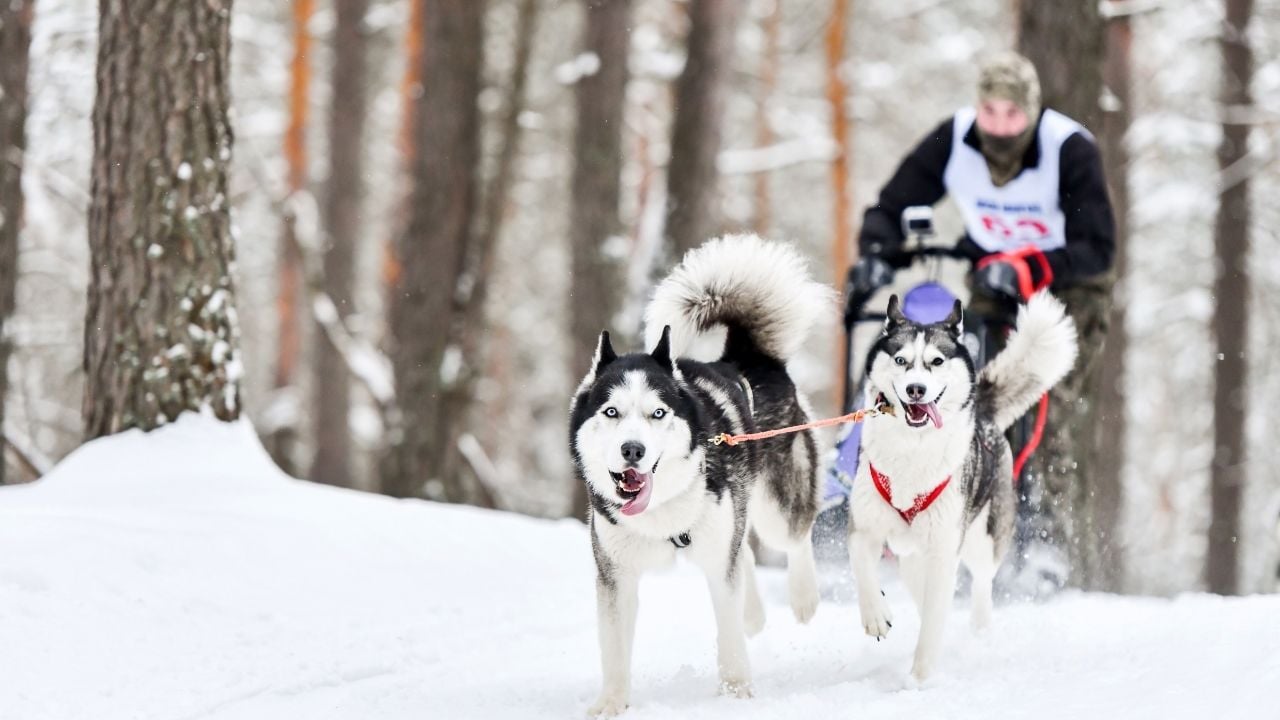 Snowmobiling expeditions are a thrilling way to see the frozen interior and perhaps reach the Kirkenes Snow Hotel, sculpted in snow and ice. Or a less strenuous route would be to sail the coast on a cruise.
Svalbard is awakening from the long winter night at this time, and the landscape emerges into an eerie blue light. The sun is returning, daytime activities are possible (get those huskies mushing) and the northern lights are visible in the evening. There are also plenty of indoors activities, including a museum and the Svalbard brewery, which offers craft ale tastings.
Spring in Norway and Svalbard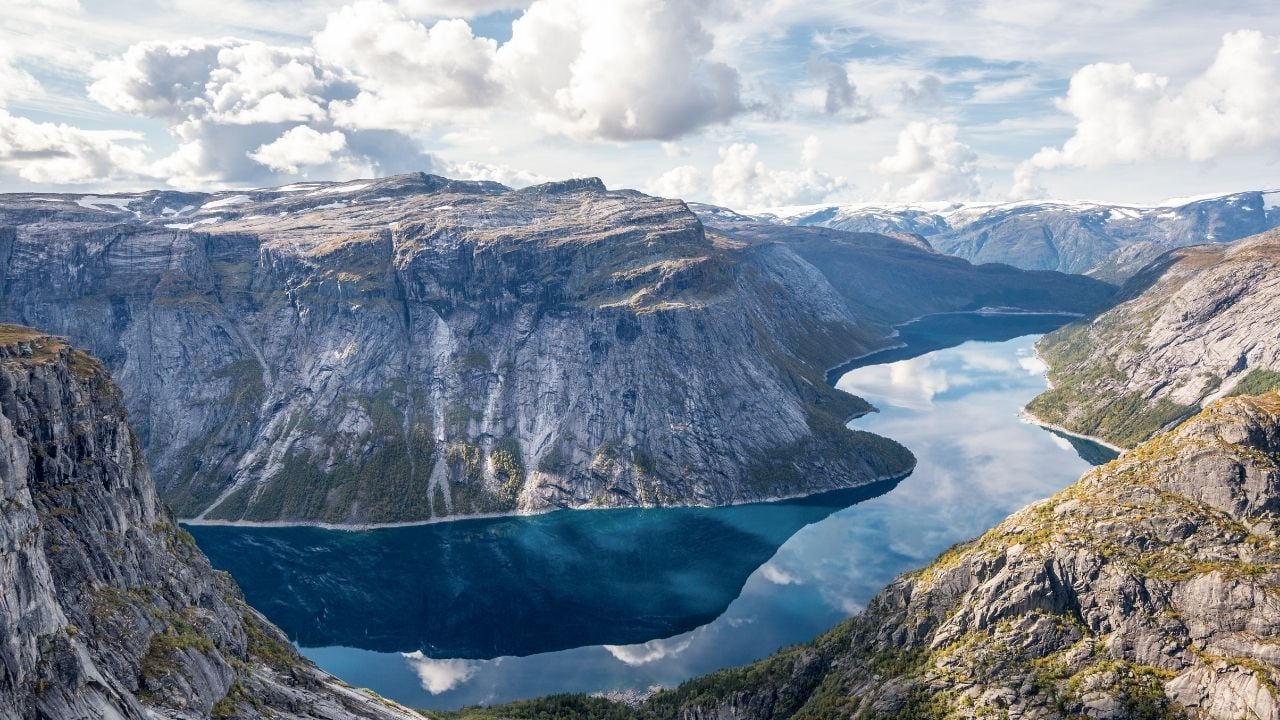 In April, snow melts on the west coast of Norway, spring flowers bloom, while ski resorts in the interior still have plenty of snow until mid-June.
Arctic wildflowers pop up everywhere. In some villages in Norway, such as Reine, flowers even bloom on the grass roofs of houses, which are a typically Nordic and efficient form of insulation.
In Svalbard, temperatures are still low at 15-59° F (-9 °C to -15 °C).
April is the best time for skiing and dog sledding on Svalbard. The north is still frozen, so for hiking, head for Longyearbyen.
There is a dramatic shift in daylight hours during April. At the beginning of the month, there is only a little over three hours, while at the end there are over 15 hours of sunlight, which is great for overland safaris, e.g. by snowmobile.
May is a low rainfall month in Svalbard and high on sunshine. At the end of May, the polar bear season starts, continuing until August. The pack ice melts and sturdier ships are able to navigate the archipelago. The Hinlopen Strait between Spitsbergen and Nordaustlandet is home to bearded seals, ringed seals, and polar bears padding across the pack ice. At the mouth, there is even the chance to spot blue whales. There are extraordinary views of icy fjords and grandiose glaciers, such as the ice cliff of Bråsvellbreen and the bird cliff at Alkefjellet, both featured in the opening credits of the BBC series Frozen Planet.
May 17th is Constitution Day in Norway, known as Syttende Mai ("May 17") or Nasjonaldagen ("National Day"). Especially in Oslo, there are colorful parades with flags and marching bands. Nowadays, many women also wear traditional dress, known as the bunad.
Ice on the coast is beginning to break up, allowing ship travel in the fjords and attracting seasonal wildlife: whales, walrus, breeding populations of auks, and other birds. There are over 1,100 fjords in Norway. If you were only ever to visit one during your lifetime, it should probably be the iconic S-shaped Geirangerfjord.
Summer in Svalbard and Norway
This is the season of the midnight sun and milder temperatures—the Arctic summer.
It is a good time for wildlife spotting in Svalbard: nesting migratory birds, especially at the most spectacular bird cliffs in the arctic, Alkefjellet. There are walruses, seals, and whales in the fjords. Permanent wildlife on land includes foxes, polar bears, and the Svalbard reindeer.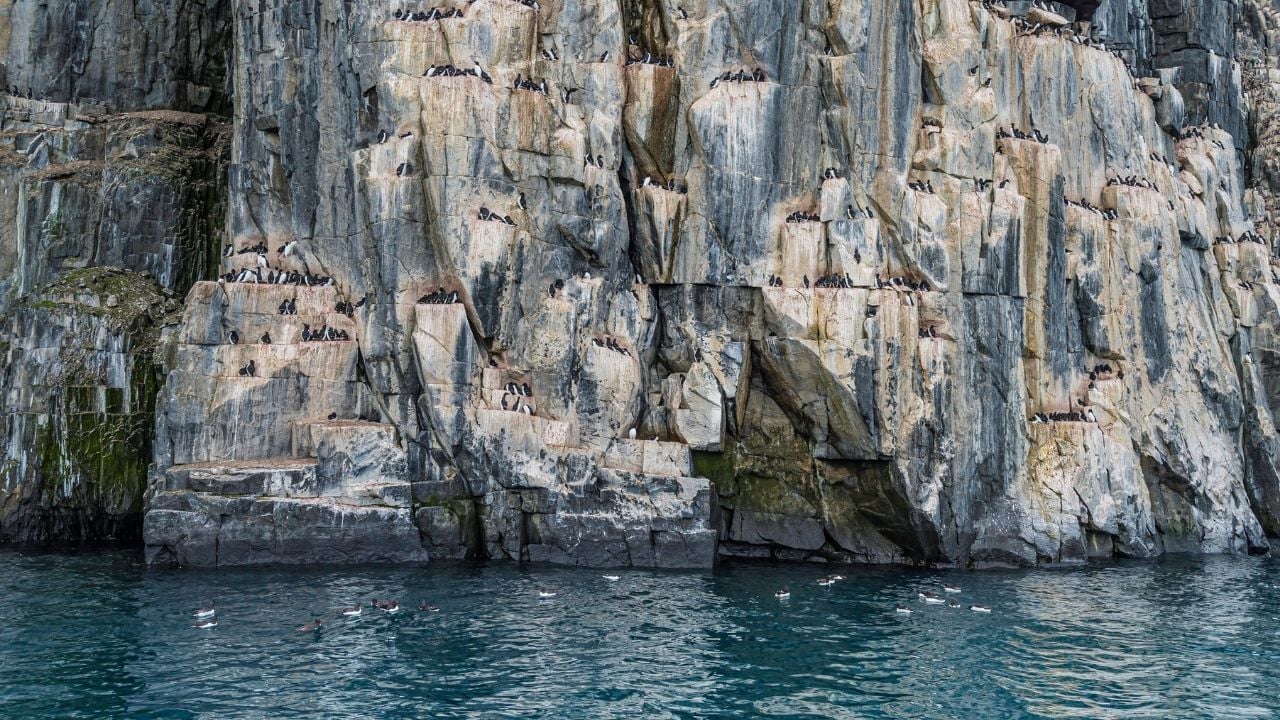 And it's the perfect time for boat trips: wildlife, photography, trips to the Russian-Ukrainian (and formerly Dutch) settlement Barentsberg, and to Pyramiden, the abandoned Soviet coal mine.
There are six national parks in total in Svalbard. At the Nordvest-Spitsbergen park you can visit glaciers on organized trips, hot springs, mountain glaciers around Longyearbyen, and ice caves in cold weather.
In June, Svalbard experiences 24 hours of daylight, the midnight sun. Temperatures reach above freezing 30 to 26° F (-1 to 3 °C) and there is relatively low rainfall of 18mm.
In Norway, there is whale watching at Andenes in Vesterålen— such as humpback and sperm whales in summer excursions off the Vesterålen coast.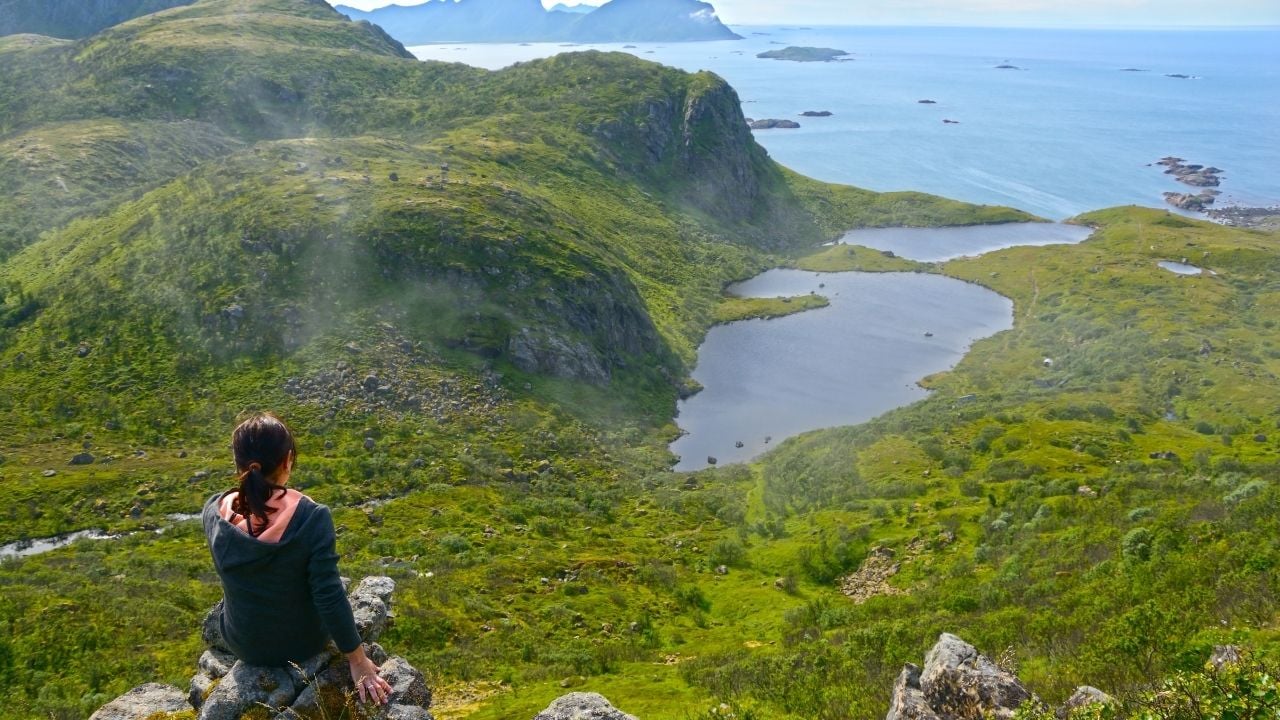 Isfjorden, the largest fjord system in Svalbard, is great for spotting polar bears on an Arctic expedition cruise, and there are sometimes blue whales in the outer bay.
July is the warmest month in Svalbard, when temperatures sometimes reach double digits. The weather however can often be drizzly.
In August, daylight hours begin to wane, although there are still almost 19.5 hours of sun. Temperatures range between 35 and 43° F (2 and 6 °C).
Autumn in Svalbard and Norway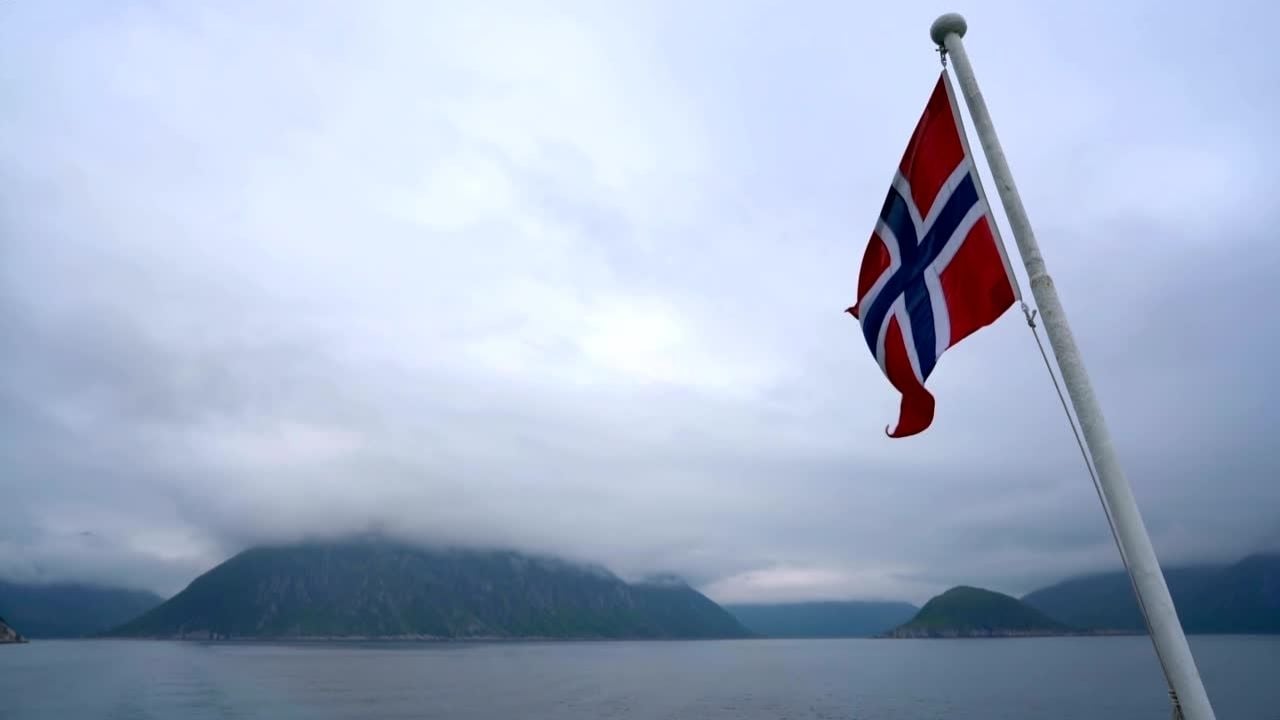 In September, temperatures drop again to 34 to 37°F (1 to 3°C) and it is foggy, cloudy, and rainy. However, it's still good weather for hiking around Longyearbyen and exploring by sea.
The sun is low in the sky and there is a soft glowing light, which makes for some great photography.
October is not ideal for wildlife spotting. Temperatures are below freezing, and towards the end of the month, ice is beginning to form in the Svalbard waters.
On October 26th, the sun falls below the horizon and the polar night begins. This is great time for thrilling snowmobiling and dog sledding into the frozen interior.
The official start of the northern lights season in most of northern Norway is November. The weather is still crisp and the colors are very autumnal. There are still not many visitors.
Christmas in Norway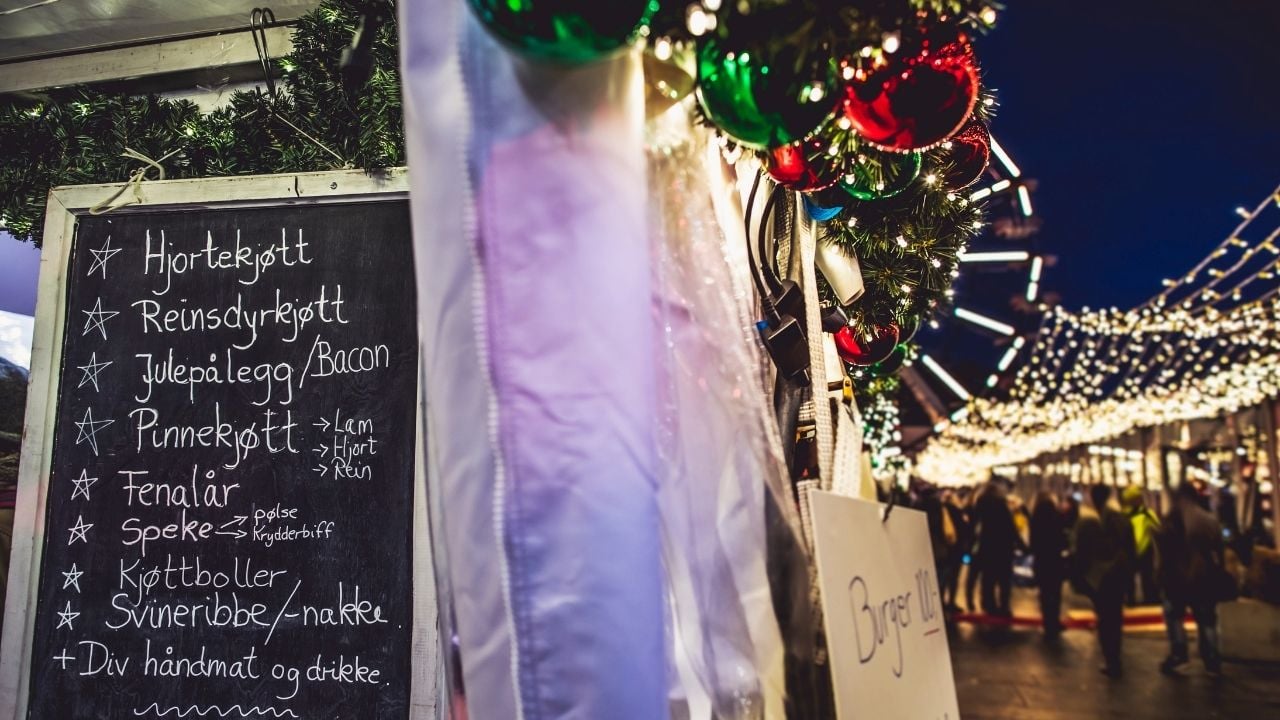 For a proper Christmas, go to Norway. Julenisse pixies with beards and red hats bring gifts at Christmas. In December, there are fairy lights everywhere, and horse and sled rides through the snowy streets. Families celebrate Christmas on the evening of the 24th. Oslo is great for Christmas markets (from early December) and ice skating in the square.
Fancy a polar expedition to the gateway to the north?
And for polar bear sightings and Zodiac trips to see the bird cliffs of Alkefjellet, see: